Táto udalosť prebehla v minulosti.
Civil Society at the Crossroads
7. mája 2019 @ 18:30

-

20:00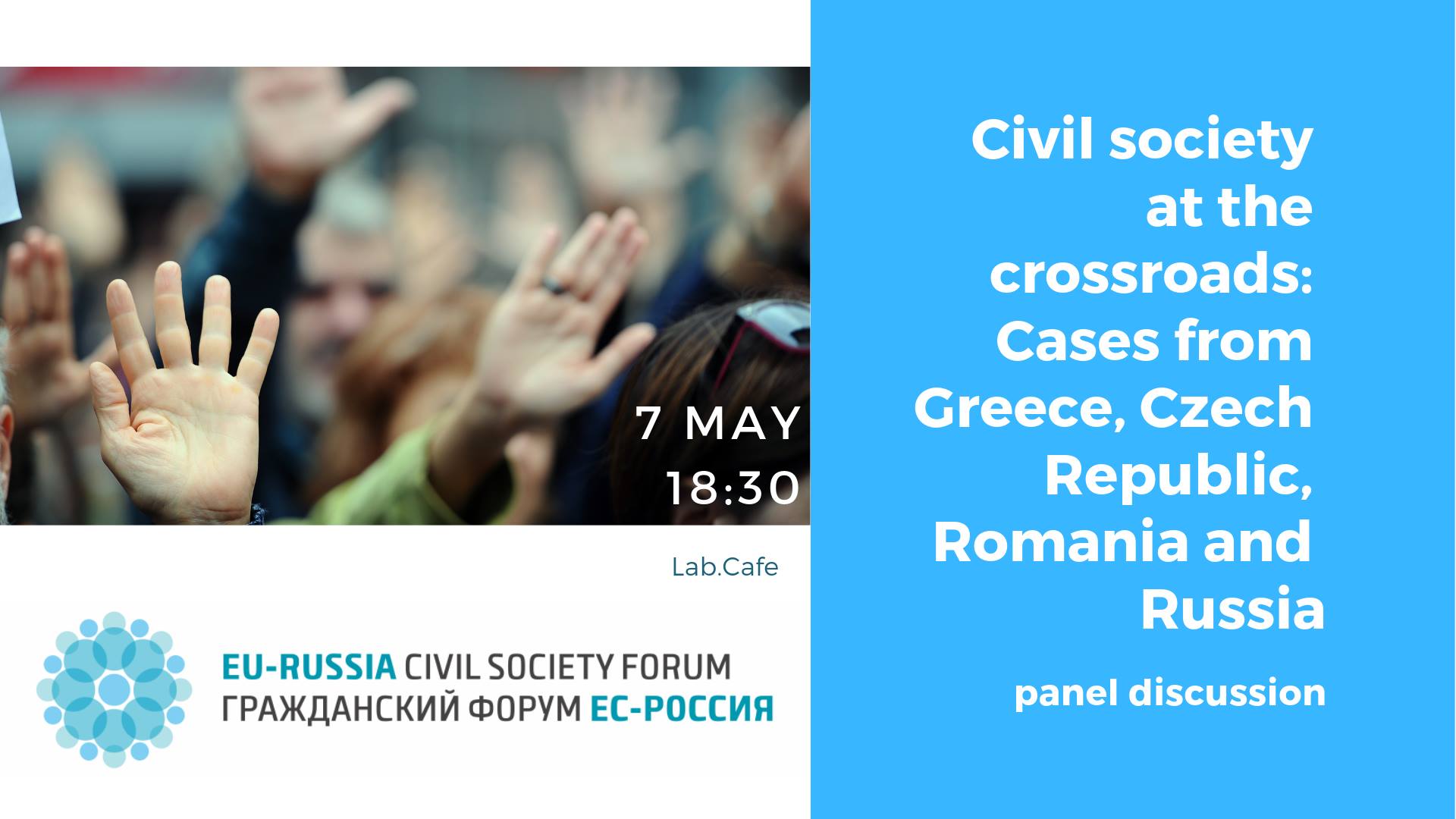 This panel discussion with international guest experts will overview the current situation in civil societies in the Czech Republic, Greece, Romania and Russia. The guest scholars will share the results of their studies on threats and hopes that civil society actors experience, political and legal conditions in their countries, as well as solutions that civil society actors apply to handle the challenges they face.
The experts will compare their countries' situations and make some general conclusions about the similarities and differences of the current state of civil society organisations in their countries. They will also eagerly answer questions from the audience.
The panelists conducted their research in 2018 in the framework of the annual Report on State of Civil Society in the EU and Russia issued by the EU-Russia Civil Society Forum/ Гражданский Форум ЕС-Россия.
This Report offers a unique opportunity to read the narratives coming from civil societies on the challenges and solutions, comparison of interesting and irregular cases. This research pays a special attention to the trends in civil society and describes life of CSOs in all its current dynamics.
More information on the Report is available at:
https://eu-russia-csf.org/home/projects/state-of-civil-society/report-2018/
Speakers:
 Andrei Dobre, PhD Student, University of Bucharest (Romania)
Pavel Paulie Havlíček, Analyst, Association for International Affairs (Czech Republic)
Yulia Skokova, Junior Research Fellow, Higher School of Economics (Moscow, Russia)
Eugenia Vathakou, Lecturer, Hellenic Open University (Greece)
Comment:
Elena Belokurova, Member of the Editorial Team/ Board Chair,
German-Russian Exchange/ Board Member, EU-Russia Civil Society Forum (St. Petersburg, Russia)
Moderator:
Kristina Smolijaninovaitė, Member of the Editorial Team / Deputy Director, Secretariat, EU-Russia Civil Society Forum (Germany)
The event is organised by EU-Russia Civil Society Forum/ Гражданский Форум ЕС-Россия – established in 2011 by non-governmental organisations as a permanent common platform. At the moment, over 167 NGOs from Russia and 19 EU states are members of the Forum. It strives for the development of cooperation between civil society organisations and greater participation of NGOs in the EU-Russia dialogue. The Forum has been involved in the questions of facilitation of the visa regime, development of civic participation, protection of the environment and human rights, dealing with history, as well as civic education.
The annual convention of the Forum — General Assembly — is taking place in Bratislava, 6-8 May 2019. The General Assembly is the highest decision-making body of the EU-Russia Civil Society Forum, which are held once a year and unite Forum members, observers, official representatives and guest participants from EU member states and Russia to address recent developments, assess and discuss Forum activities and future projects.